About Hale Ho Aloha
Your Most Trusted Health Partner for Life.
Schedule a tour online
Book your next appointment online.
Business Hours
Monday – Friday 8:00 – 4:30 PM
Saturday - By Appointment
Saturday - By Appointment

We're committed to delivering outstanding healthcare. Period.
Hale Ho Aloha has been serving the community for over 50 years.  Starting in 1968, Hale Ho Aloha was established as a small care home and later developed and renovated into a 59-bed long-term nursing care facility. 
This comfortable environment is in a plantation-style care residence in the hills of Pacific Heights.  Residents can enjoy a panoramic view of Punchbowl, Diamond Head, and Downtown Honolulu.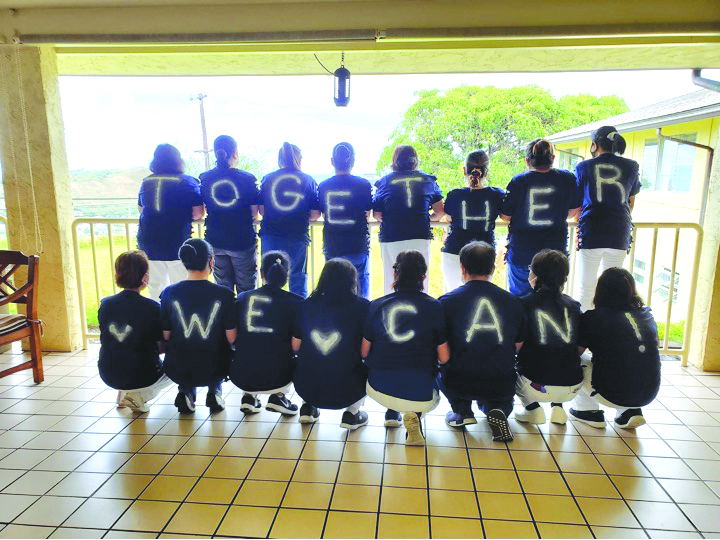 Doris Hahn L.S.W. is the Director of Social Services for Hale Ho Aloha and performs all duties of a licensed social worker as well as supervises the Activities Department.
Doris received her master's degree in Social Work with a concentration in Gerontology from the University of Hawaii at Manoa. She has 23 years of experience in the health care industry including skilled nursing, long term care services, hospice, adult day care, and community-based health coordination for the aging population. Her commitment is to enhance the quality of life for older adults by making a positive difference in their lives.
She enjoys spending time with her husband and daughter, watching Korean dramas, searching for quick and healthy recipes, doing arts and crafts, and listening to music with hopes of learning to play the bass guitar.
Justin Tio CDM, CFPP is the Certified Dietary Manager for Hale Ho Aloha. As Dietary Manager, he supervises the kitchen as well as processes inventory for both the Kitchen and Nursing Department.
Justin was born in Japan and attended the Nile C Kinnick High School on the US Naval base. He moved back to Hawaii when he was 23. He has over 15 years of experience in the Food and Beverage Industry where he worked his way up to management.
Some of his hobbies include Disc Jockeying, playing video games, auto repair, and cooking.
Christine Lin joined the Hale Ho Ohana in 2019 as an Office Manager. As the Office Manager, she oversees the Financial and HR Department.
Her background includes hospitality, tourism, education and over 18 years of experience in healthcare. Christine earned her Bachelors of Business Administration in Accounting and Finance degree from the University of Hawaii at Manoa. She subsequently received her Master of Business Administration from Hawaii Pacific University with emphasis in Finance.
Christine and her husband have 2 children and enjoys hiking, reading, movies and volunteering activities involving children.
Prospero "Toto" Agudo Is the Director of the Environmental Services for Hale Ho Aloha. He manages and supervises the maintenance, housekeeping, and laundry services. He also provides support and coordination to ensure the quality standards, inventory levels, and safety guidelines. As the Director of Environmental Services, he assists in providing in-service training to the staff and manages the Health and Safety Committee. Prospero obtained a Bachelors of Science in Animal Husbandry.
In his free time, Prospero enjoys playing tennis.
Bryce Sumida, DPT, OCS, NHA is the Administrator for Hale Ho Aloha. He currently oversees Hale Ho Aloha's operations to ensure high-quality resident care and a safe, healthy workplace.
Born and raised on Oahu, Bryce graduated from Iolani School, then pursued further education at the University of Puget Sound earning a Bachelor of Science in Exercise Science and later a Doctor of Physical Therapy. He has experience working with a range of populations from professional athletes to knee replacements and lastly to geriatrics.
In his free time, Bryce enjoys cooking, golfing, and fishing. He currently volunteers with Saint Francis Healthcare as a presenter for the caregiver mobility training seminar.