Covid-19 UPDATE
Hale Ho Aloha is pleased to announce in-person resident visits starting Wednesday, March 24th, 2021.
Visiting hours will be 9:00 AM to 11:00 AM and 12:30 PM to 2:30 PM, daily. Visits are scheduled for a maximum of 30 minutes per visit. Two visitors maximum per visit. Currently, we are allowing one visit per resident, per week. We request that visits be scheduled at least 24-hours in advance and may be scheduled up to two weeks in advance. All visitors are subject to visitor screening questions and temperature check.
To schedule a visit, contact Lauren Chou, Director of Social Services at (808) 524-1955, extension 122 or email: lchou@halehoaloha.com.
Visitation guidelines and procedures are subject to change. You may inquire about current visitation guidelines when scheduling a visit.
Updated: March 24, 2021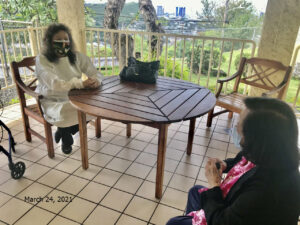 Hospice/Respite
Your Most Trusted Health Partner for Life.
Schedule a tour online
Book your next appointment online.
Business Hours
Monday – Friday 8:00 – 4:30 PM
Saturday - By Appointment
Saturday - By Appointment

Hospice Care
Hale Ho Aloha are experts when it comes to hospice care for your loved ones. Hospice care focuses on pain management and the emotional, physical, and spiritual support for the patient and family.
Hospice care also is provided in freestanding hospice centers, hospitals, and nursing homes and other long-term care facilities.
Hospice services are available to patients of any age, religion, race, or illness.
Hospice care is covered under Medicare, Medicaid, most private insurance plans, HMOs, and other managed care organizations.
Hale Ho Aloha is not a hospice organization, but works with Bristol Hospice, Islands Hospice, Malama Ola, Navian Hawaii, and St. Francis Hospice. Please contact us for further information regarding hospice care.
Respite Care
Respite care is designed to give caregivers a much-needed break from their daily duties.  Let Hale Ho Aloha ease some of your burden while your family member is pampered by a loving staff of experienced nurses.  Respite care may be scheduled at a minimum of 7 days duration.
Respite care is designed for caregivers who are:
Please contact us for further information regarding our Respite Program. 
Attending a wedding, graduation or birth of a grandchild
Taking time to care for their own health concerns
Re-modeling or tenting the house
Looking for a "trial run" of nursing home placement
Anyone requiring a well-deserved break from the demands of care giving