Covid-19 UPDATE
Hale Ho Aloha is pleased to announce in-person resident visits starting Wednesday, March 24th, 2021.
Visiting hours will be 9:00 AM to 11:00 AM and 12:30 PM to 2:30 PM, daily. Visits are scheduled for a maximum of 30 minutes per visit. Two visitors maximum per visit. Currently, we are allowing one visit per resident, per week. We request that visits be scheduled at least 24-hours in advance and may be scheduled up to two weeks in advance. All visitors are subject to visitor screening questions and temperature check.
To schedule a visit, contact Lauren Chou, Director of Social Services at (808) 524-1955, extension 122 or email: lchou@halehoaloha.com.
Visitation guidelines and procedures are subject to change. You may inquire about current visitation guidelines when scheduling a visit.
Updated: March 24, 2021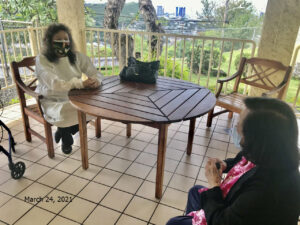 News & Events
Your Most Trusted Health Partner for Life.